Senior Chairman – Charoen Pokphand Group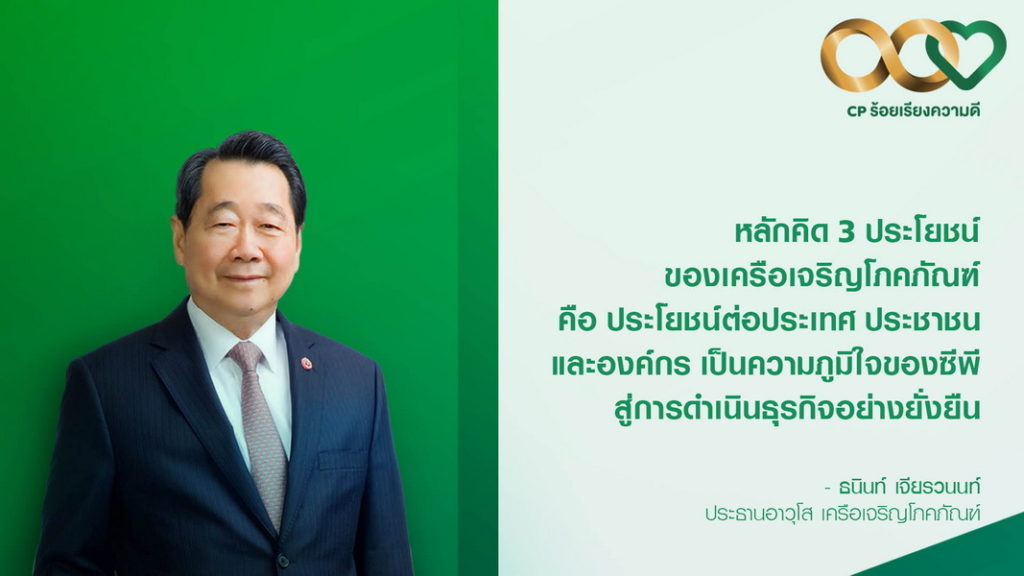 Thoughts from the Senior Chairman Dhanin Chearavanont
"C. P. Group has grown up to 100 years. It is important to know how to repay the land. with the principle that the group Adhering to the 3-Benefit Philosophy, conducting business with consideration for the benefit of the nation, the people and the organization in the last place."
Message from THE SENIOR CHAIRMAN
Amid the great winds of change the world is experiencing today, uncertainty have become a fact of life. These changes are both severe and sudden, confronting humanity with endless challenges. For instance, the COVID-19 outbreak over the past two years from 2020 to 2021 – has caused great economic and social damage and hardships. Nevertheless, I encourage everyone to regard such obstacles as constants and crises as opportunities. Likewise, the COVID-19 pandemic has occasioned Thailand's full transition into digital society. It became the major turning point that urged consumers to learn how to use online technology whether they are ready to do so or not. This has caused unprecedented changes to the conventional way of life. Therefore, Charoen Pokphand Group must establish sustainability in all our business group, while quickly adapting and responding to changes in a bid to keep pace with variable consumer demands by delivering value through high quality products that satisfy the consumers' every need.
Since the founding of our business, Charoen Pokphand Group has committed to enhancing our corporate competencies in order to achieve sustainability in all dimensions. Today, we have succeeded in expanding our investment and becoming a large conglomerate that encompasses 14 business groups in 21 countries worldwide. The diversity of our business ranges from the production industry to the service industry. One of the Group's core sustainability strategies is sharing and exchanging knowledge and experience concerning strengths or advantages that serve as powerful tool in building success for the Group's businesses, no matter where they are located. Because of this, our businesses do not have to waste time on trial and error. Furthermore, this knowledge can be adopted and utilized in various situations.
The process unifies the entire organization through the sharing or resources and knowledge, which drives our business to become globally competitive and strengthen management potential and efficiency. This is a critical element that supports Charoen Pokphand Group's sustainability targets and our efforts in becoming a world- class organization with pride.
Charoen Pokphand Group believes that the organization's solid groundwork will contribute to the robust and secure foundation of the society and country.
On behalf of Charoen Pokphand Group Company Limited, I would like to extend my gratitude to everyone for their constant trust and support. Charoen Pokphand Group will adhere to honesty and integrity when conducting our business with transparency under good governance and the corporate governance principles. At the same time, we will center our focus on creating value for all stakeholders, while upholding our sense of social responsibility to enable the sustainable growth of the organization as well as the establishment of a society of sustainable coexistence.
Executive Commitment
" Throughout the course of our business conduct, Charoen Pokphand Group has committed to enhancing our corporate competencies in order to achieve sustainability in all dimensions."
Dhanin Chearavanont
Senior Chairman
Charoen Pokphand Group