Chairman – Charoen Pokphand Group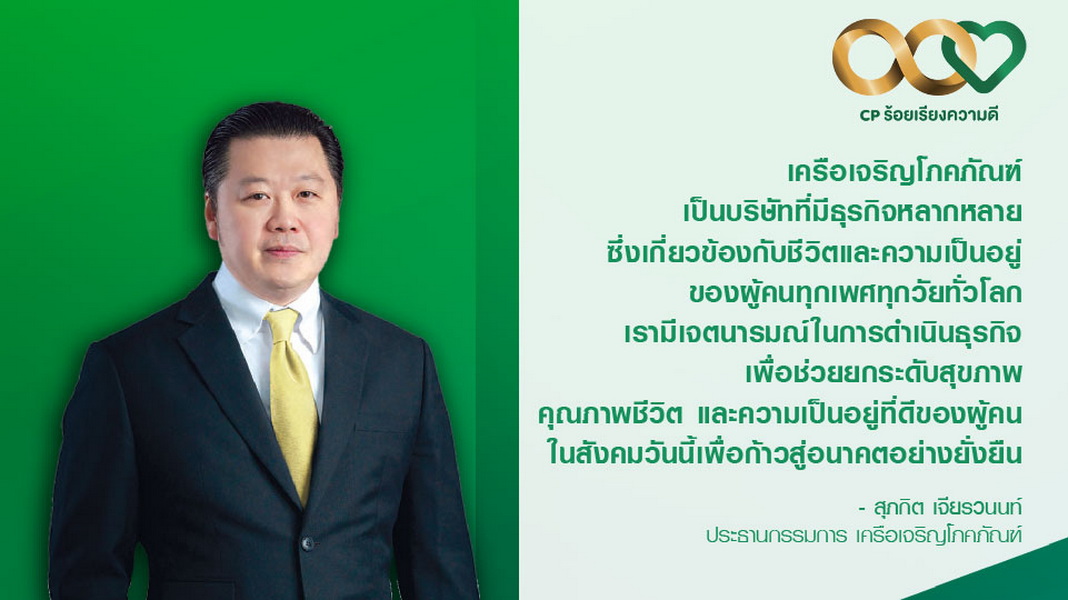 Message from The CHAIRMAN
The world has continuously faced major challenges for over a course of two years. Even though the prolonged COVID-19 situation has eased up in many countries, its impact on the economy, society and environment remains. Meanwhile, geopolitical conflicts that have arisen are exacting their tolls on the global economy and the supply chain of major raw materials. Amidst these challenges, Charoen Pokphand Group, a global food producer, recognizes our vital responsibility toward the establishment of sustainable food security and production chains. We deliver high-quality, clean and safe food, bring nutrition and good health to communities around the globe in tandem with protecting and conserving the environment.
Over the past two years, Charoen Pokphand Group's executives, colleagues, business partners, suppliers and stakeholders across our supply chain have tirelessly worked together to provide aid to those affected by the global crisis and to restore local economies in countries where we operate our businesses. We adhere to our Six Core Values which are Accept Change, Innovate, Simplification, Speed and Quality, and Integrity aiming to create sustainable benefits to the country, the people and the company through our business operations. In 2021, we have elevated our Sustainability Strategic Plan in line with the increasingly challenging global sustainability context in order to safeguard the impact of related global and national policy, mitigate the climate risk and strengthen our value chain worldwide. We encourage a strict compliance with the principles of good corporate governance and the Code of Conduct.
We strive to produce good and talented new generation leaders to be our driving force addressing all aspects of global challenges. Charoen Pokphand Group has also expedited the adoption of technology in all of our business units to raise our global competitiveness.
The year 2021 marks Charoen Pokphand Group's 100th year of weathering and even thriving through global crises and challe ges. On this centennial occasion, I would like to pay tribute to our senior management and colleagues in each and every country for their passion, dedication, sacrifice and patience that has driven sustainable growth for Charoen Pokphand Group. I would like to extend my sincere gratitude to our customers, strategic partners, suppliers and all of the stakeholders across our supply chain for their enduring confidence, trust, support and cooperation. These are the vital forces driving Charoen Pokphand Group into the next century with confidence, enabling us to achieve our sustainability goals with efficiency and yielding the sustainable benefits for the country, the people and the organization.
Executive Commitment
" We have elevated our sustainability framework and goals in line with the increasingly challenging global sustainability context for effective risk management, reducing the impact on society and the environment, and being a leading company that drives sustainable business. "
Mr. Soopakij Chearavanont
Chairman
Charoen Pokphand Group