Chief Executive Officer – Charoen Pokphand Group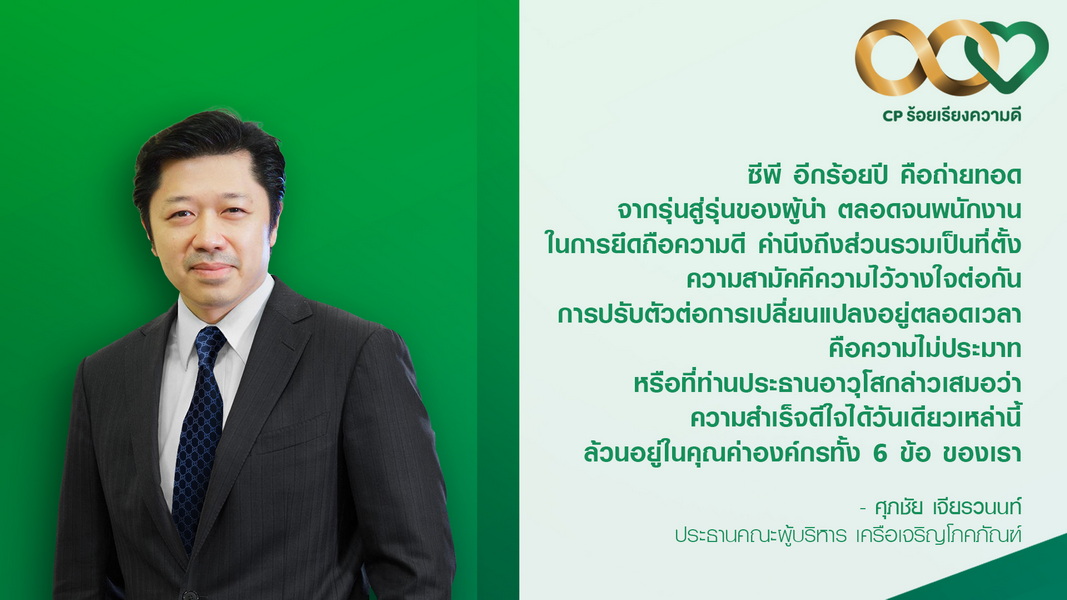 Message from The CEO
2021 had proven to be another difficult year due to the persisting spread of COVID-19. It was also a year we were confronted with numerous global challenges, such as digital transformation, radical innovations, changing consumer behaviors, entry into an aging society and, most importantly, climate change which has been recognized and regarded as an urgent agenda that cannot be overlooked by the global community. All these challenges have an effect on economies, societies, businesses, cultures and the lives of everyone on this planet.
Charoen Pokphand Group, or C.P. Group, had successfully advanced into our 100th year by remaining committed to the Six Core Values which encompass gratitude and the creation of sustainable benefits for the countries where we invest, for the people and society in which we operate and, last but not least, for the company. The Group has also adhered to ethics and the Code of Conduct to prevent all forms of bribery and corruption while promoting operations that are consistent with the principles of corporate governance and sustainable development, which takes into account all stakeholders in the economic, social and environmental dimensions. This has laid a solid groundwork that will lead to the Group's further growth in our second century. C.P. Group aims to remain on the course of creating values to serve communities, societies and the country according to the aspirations of our founders and their business successors in every era. Without clear goals, it is difficult, if not impossible, to affect change. Therefore, Charoen Pokphand Group followed and achieved the goals that we had announced in 2016 with the full cooperation from all sectors. Such accomplishment has brought international recognition to the Group. In order to continue creating values sustainably, the Group has set new and more challenging targets under the scope of Charoen Pokphand Group's Sustainability Goals 2030. The Group views that our Sustainability Goals are very much in line with the changing global trends. We strongly believe that our business direction under these Goals will render benefits to Thailand and all countries where the Group has made investments, while creating happiness and smiles for the people, communities and societies of those countries. 2021 was a milestone in our history as we were able to achieve several goals. We are truly grateful to have been awarded and recognized by various organizations, including international entities. Such success must be regarded as the result of the cooperation of various sectors. The Group took part in the S&P Global Sustainability Assessment and ranked third under the Industrial Conglomerates sector. We were also awarded the S&P Global Bronze Class in the Sustainability Yearbook 2022. Such accomplishments stemmed from the commitment of the management and all employees who joined efforts to produce good results. It also reaffirmed our status as the leading Thai business that aims to become a "leader of global sustainability". In the same year, we were also recognized as one of the "World's Most Ethical Companies 2021" by Ethisphere, a world-class institute that evaluates ethical business conduct standards. C.P. Group was also named a "Global Compact LEAD" company by the United Nations. This reflects our commitment to operate under the principles of sustainable development in all dimensions.
In addition to sustainable business operations with consideration for the society, economy and environment, Charoen Pokphand Group's next step entails the commitment to create an innovative organization that researches and develops better quality products and services. We promise that people will have access to sources of quality food for both the body and mind. The Group also intends to develop our personnel into good and talented individuals who possess digital skills in order to help drive the Group's sustainable growth and the creation of shared benefits for the public.
There is no doubt that Charoen Pokphand Group will expand our business in response to changes in the global situation and consumer behavior. We will be another major force in reducing global warming according to our declaration of intent to become "Carbon Neutral by 2030" and "Net Zero Emission by 2050" in order to achieve sustainability and create value, such as lowering greenhouse gas emissions, reducing inequality, etc. We will also move forward with projects for the sustainability of each and every community and country where we invest to maximize our contributions to society.
Charoen Pokphand Group has stood by Thai society from the start of the COVID-19 pandemic until today. The Group and all our affiliates have joined forces to give back to the Thai people in this time of crisis through various projects, such as C.P. Hearts as One Fight COVID-19 which has donated food, beverages and communication supplies worth over 200 million THB to field hospitals in an effort to alleviate the burden of the public health sector. We have also distributed a total of over 31 million C.P. hygienic face masks to medical personnel, vulnerable group, and the public. Furthermore, the Group has joined forces with affiliated companies and over 100 partners to distribute 2 million meal boxes under the "Krua Pan Im C.P. Hearts as One Fight COVID-19" initiative. The Group also conducted the "CP Plant and Share Fah Talai Jone" project where we plant Fah Talai Jone (green chiretta or Andrographis paniculate) on 100 rai of land in Saraburi province for the production and distribution of 30 million capsules of Fah Talai Jone herbal medicine for the public to boost their immunity during the COVID-19 situation.
I would like to take this opportunity to express my appreciation to all sectors who have contributed to driving the Group's sustainability during this time of change and challenge in terms of increasing inequality, digital transformation and environmental challenges. Charoen Pokphand Group will remain committed to leveraging new technologies to affect changes for the sustainability of the economy. society and environment while striving to promote and develop our people.
Executive Commitment
" We will be another major force in reducing global warming according to our declaration of intent to become "a Net Zero Emissions Organization" to achieve sustainability and create value. "
Mr. Suphachai Chearavanont
Chief Executive Officer
Charoen Pokphand Group